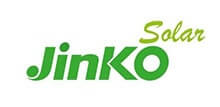 Jinko Solar Panels
Jinko Solar Panels is one of the largest solar module manufacturers who distributes its solar products to a utility, commercial and residential customer base in China, the United States, Japan, Germany, the United Kingdom, Chile, South Africa, India, Mexico, Brazil, the United Arab Emirates and other countries and regions.
Jinko Solar Panels is a member of "Silicon Module Super League" (SMSL), a group of the biggest c-Si module suppliers in the solar PV industry today. Jinko Solar Panels operates as one of the industry's largest R&D across its 6 global production facilities.
Jinko Solar Panels has built a vertically integrated solar product value chain, with an integrated annual capacity of 14.5 GW for silicon wafers, 9.2 GW for solar cells, and 15 GW for solar modules, as of September 30, 2019.
In Australia Jinko Solar Panels head office is in Sydney, and we have dedicated warehouse facilities in Sydney, Melbourne, Brisbane, Adelaide and Perth. Because we understand that our customers in Australia value local service, we have built a full-service team focused on helping you grow your solar business whether in residential, commercial or utility.