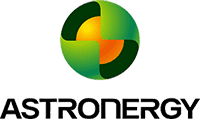 Astronergy Solar Panels
Astronergy Solar Panels was founded in 2006 and currently has over 3000 employees.
Astronergy solar panels are a renewable energy focused company with manufacturing and EPC capability*. Currently, they have a 3.5GW capacity of PV modules manufacturing facility and managing over 4000MW of solar power station around the world.
Astronergy Solar panels have their manufacturing facilities in China, Thailand and Vietnam. Recently, our Astronergy Solar Panels (Astro) series have been awarded the world's first LeTID certification issued by TUV Rhine of Germany and the highest AAA level of operation and maintenance in the industry. In addition, they have formally signed a technical cooperation agreement with the UNSW in Australia. *(EPC in China only and developing around the world)
Since 2009, Astronergy Solar Panels was imported by a local distributor in Australia. From 2017, we have officially appointed distributors and also provide OEM products into Australia.
On Astronergy's investment side of business, we have made partnerships with a local developer in South Australia with regards to building a large-scale solar farm. Currently, we have 2 solar farms in operation. One of which is 1MWdc and the other 1.8MWdc. We can expect up to 20MWdc of our solar farms in operation in late 2019. We have already signed the strategic partnership agreement to be develop another 150MWdc large scale solar farm in Australia and continue to seek partnership and development opportunities in the future.
In 2014, Astronergy Solar panels acquired Conergy's production plant located in Germany and became the first Chinese solar company to establish a production facility in Germany. The merge of the German plant increased Astronergy's market share in EU significantly combined with another 5 production sites around the world in Hangzhou, Haining, Jiuquan, Thailand and Malaysia.